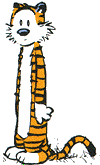 This page is devoted to the best comic character/book ever...
Calvin and Hobbes is about a 6 yr old and his best friend, a stuffed tiger. But thats just the begining, things unfold exponentially with calvin's stupefying, frequent but ephemeral access to his "reality"....But as long as Hobbes is around he's sure to have a piece of advice or two.
Calvin is taken from the sixteenth century theologian, Fr John Calvin. who founded Calvinism and believed in predestination. Hobbes was taken after the seventeenth century philosopher, Sir Thomas Hobbes.
I have managed to collect some interesting pictures and stories of Calvin and Hobbes. You might want to come back often and check out if there is something new.

                                          enjoy your stay.

                                          - Ajay Sathyanath.



---

The first Calvin & Hobbes strip that appeared on Nov 18th , 1985.

The last one appeared on Dec 31, 1995.
See the person behind it all
---
Here are some links to other calvin and hobbes sites around the world.

Calvin & Hobbes Extravaganza A Famous Calvin & Hobbes Page
Calvin & Hobbes Jumpstation A Site With Alot Of Links
www.calvinandhobbes.com A Site Which Features A Different Comic Everyday
Calvin & Hobbes At Martijn's A Very Well Presented Page
Calvin & Hobbes A Calvin & Hobbes Page Owned By Garrett David
The Wonderful World Of Calvin & Hobbes Really A Marvellous Page
The Last Day Of Calvin & Hobbes A Page With Tribute To Calvin & Hobbes
Calvin & Hobbes A Calvin & Hobbes Page Owned By Lupos